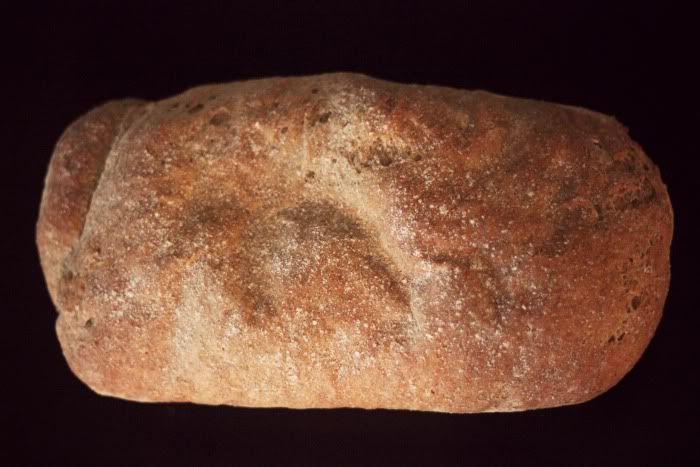 When I was little, I loved to watch my mom's strong hands kneading the stretchy, pliable bread dough, punching, rolling, flipping, mesmerizing. My sisters and I would crowd around her, and she'd pinch off a sphere of dough for each of us to knead, and I twisted mine into braids and maybe sneaked a little bit to eat here and there. Ever since those unforgettable childhood moments, eating warm, freshly born bread has always evoked a strong feeling of nostalgia in me. The process that could be mundane became amazing and enthralling when viewed with bright young eyes, and the simple moments spent around the huge metal kneading bowl are etched in my memory as times of carefree laughing and delighted chattering.
We lined up the dough in their respective pans--two large loaf pans for mom's dough, and three little pans for each of us girls' braided designs. I wanted to peek in the oven, but no, she said, I'll turn on the light for you and you can watch it baking through the glass. So I did, waiting not so patiently until the golden brown loafs puffed up gloriously and were pulled from their hot cocoon by gloved hands. Cutting into the warm, crumbly bread, we spread the slices liberally with butter, sometimes adding a vibrant layer of homemade jam.
History repeats itself. Today Mom baked our best-loved bread recipe that has been handed down through the generations, starting with my great-grandmother Nadia in Russia. As the rich fragrance wafted through the rooms of the house, happy remembrances and thoughts swirled thickly too. Sometimes I wonder about this same recipe being followed on the other side of the world, a hundred years ago. Did my great-grandmother have little children that crowded by the oven, clamoring for a little piece? Did she enjoy rolling and kneading out the dough, like I do? What did she think of as she went through the process of creating something new by joining flour and liquid in a big bowl? Sometimes I wonder.
But what I do know is that it doesn't get any better than this. This deliciously warm, crumbly whole wheat bread, spread with butter or any edible thing you like was created by hands that love me and care enough to take time to create something good. This is the best kind of bread.
xo.